Targeting RX
Even with the times of the large sales teams in the Rx sector being a thing of the past, knowledge of the potentials of the relevant prescribers is still crucial for the planning of the sales investments. From a multitude of projects, SALETELLIGENCE features comprehensive experience in the area of targeting physicians and medical doctors, and this across diverse specialties as well as indications.
The basis of a well-founded assessment of potential is always the thorough compilation of relevant sources of information. Here, our customers already have – in most cases – existing data such as contact data and initial customer classifications. We supplement these with additional data from our data pool such as socio-demographics, environmental analyses, distances to other stakeholders (pharmacies, medical centres), focus areas of interest, etc.
In the Rx sector, we determine the potentials through the statistical combination of the information available regarding the individual actors with regionalised market data. Based on the results, we support our customers in the concrete selection of target physicians and in segmenting as well as in additional steps of the sales planning that build thereupon.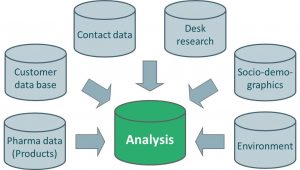 For the introduction of our new product, we had to reengineer the target group – SALETELLIGENCE delivered in a tailored fashion, professionally, on time, and always flexibly met our requirements.

Santen GmbH