About us
SALETELLIGENCE makes it easier for companies in the healthcare industry to ensure patient care through targeted analyses, provision of relevant information, and tools that are easy to handle.

Our approach
In response to our customers' complex challenges, we utilise a data-driven approach. Based on a broad basis of information, we can develop solid and resilient answers.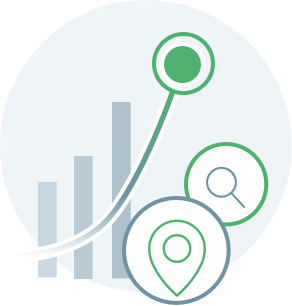 Our principles
Our work is based on four principles; they are the foundation of our company:
Agility
We live in fast-paced times, the requirements of our customers can change from today to tomorrow. To quickly adapt to changed framework conditions and to deliver work results on short notice are important components of our day-to-day work – agility is important to us!
Diligence
To us, quality is proving itself through freedom from errors in the details. Our work is dedicated to this understanding of quality. We ensure this through the emphasised importance of diligence in the way we work.
Commitment
It is our goal to exceed our customers' expectations. For this, we utilise all our strengths, our creativity and our dedication. Adhering to schedules, reachability, and industriousness are no mere secondary virtues for us but rather the foundation of a successful cooperation.
Partnership
We consider ourselves allies of our customers in the fight with the competitors. In performance areas, we proactively search for and deliver approaches that provide our customers with competitive advantages. Our customer's success is the greatest confirmation of our work.